10 Plant-Based Roasts You Need to Try This Holiday Season
Hannah Bugga
No holiday meal is complete without a fantastic centerpiece! These 10 impressive roasts are delicious, hearty, and completely plant-based. Which one is your favorite?
1. Meatless Plant-Based Roast with Gravy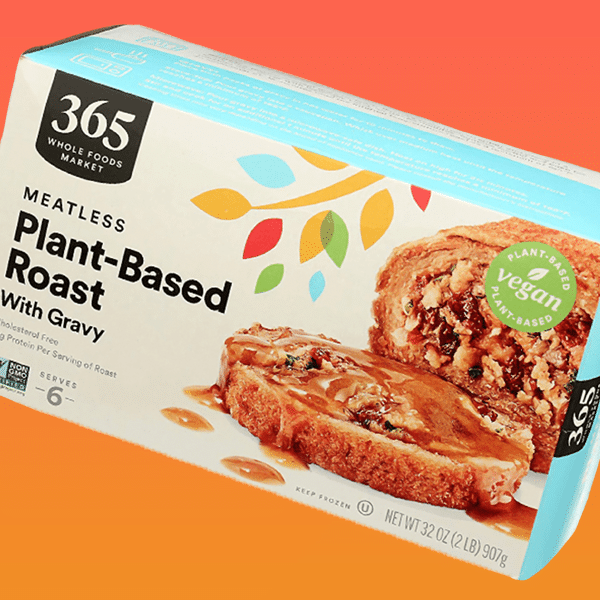 This soy-based roast from Whole Foods Market includes a side of vegan gravy and bread stuffing with onions, celery, and cranberries. The exciting new option can be found at Whole Foods Market across the United States and Whole Foods Market on Amazon. Still hungry? Whole Foods also offers a limited-edition riced cauliflower stuffing for purchase along with the roast.
2. Hazelnut Cranberry Roast en Croûte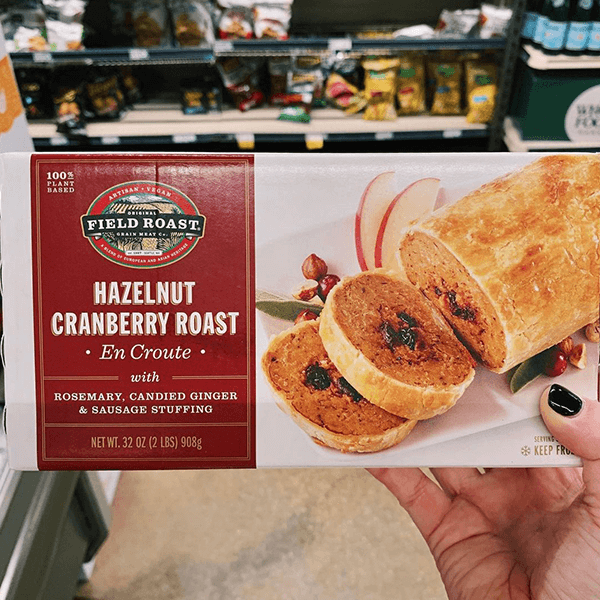 Plant-based company Field Roast has outdone itself with this roast, pairing hazelnut-infused grain meat with a dynamic sausage stuffing made with crystallized ginger and cranberries. What makes this one so special? It's wrapped in a tempting puff pastry, making it a perfect centerpiece for the holidays.
3. Tofurky Roast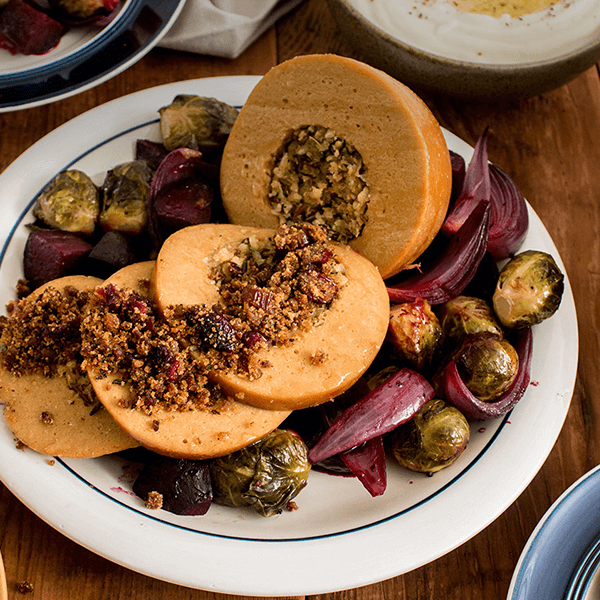 This classic vegan roast is packed with seasoned wild rice and breadcrumbs and comes with a savory gravy. Purchase the roast on its own or as part of a holiday vegetarian feast, which includes a decadent dessert. Extra gravy is available for purchase as well! Each roast serves six to eight and is ready in about an hour and a half.
4. Turk'y Roast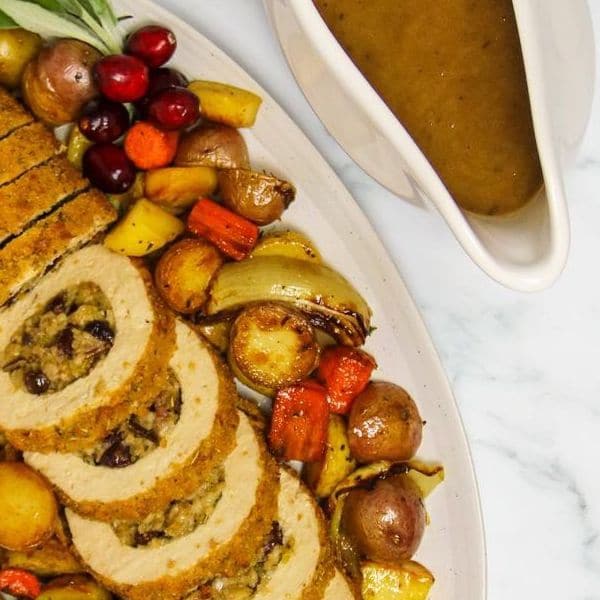 Gardein is well known for its incredible vegan meats, and its turk'y roast lives up to the company's reputation. Filled with mouthwatering cranberry-wild-rice stuffing, this roast serves eight and includes homestyle gravy!
5. Turkey-Less Stuffed Roast with Gravy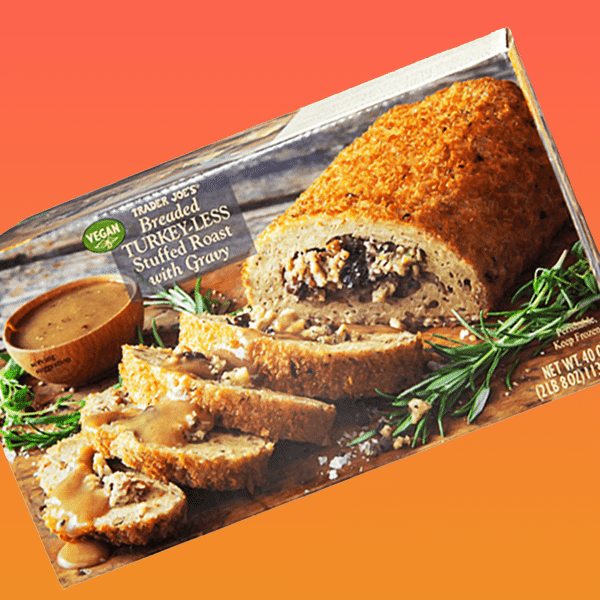 Even Trader Joe's offers a vegan roast! Coated in a crispy breading, packed with wild-rice stuffing, and served with gravy, this main dish is everything you need to celebrate compassionately this holiday season.
6. Celebration Roast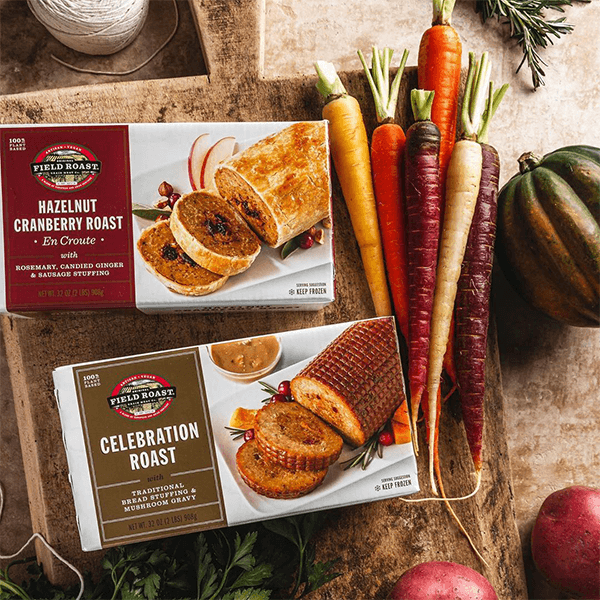 Field Roast just can't do wrong! Its classic celebration roast is rubbed with sage, garlic, and lemon juice and stuffed with a traditional bread stuffing. Expect bites full of heavenly fresh onions, celery, cranberries, and butternut squash. The roast also comes with dark mushroom gravy.
7. Turkey-Free Roast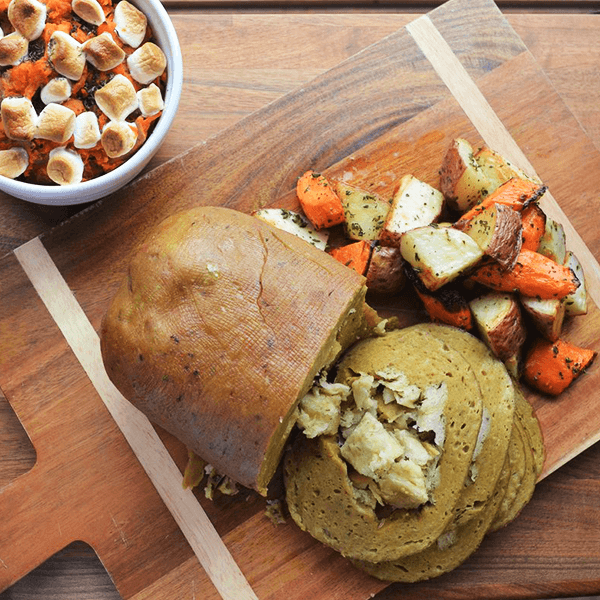 Available for purchase à la carte or as part of a Thanksgiving feast, The Herbivorous Butcher's roast is the perfect addition to any dinner table. Although it comes unstuffed, The Herbivorous Butcher has plenty of exciting cooking instructions on its website.
8. Ham Roast with Amber Ale Glaze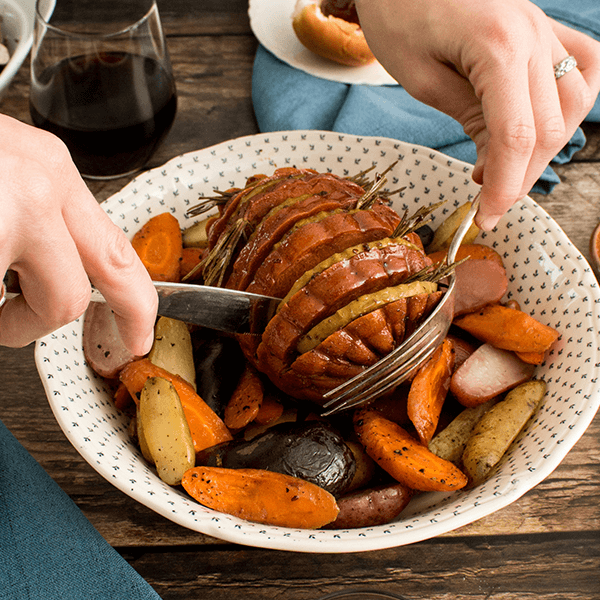 This truly impressive plant-based main course boasts a smoky flavor, a tender texture, and a sweet, tangy glaze. Tofurky recommends serving this roast with your choice of stuffing and vegetables. It also pairs perfectly with classic holiday sides, like mac and cheese!
9. Vegetarian Plus Turkey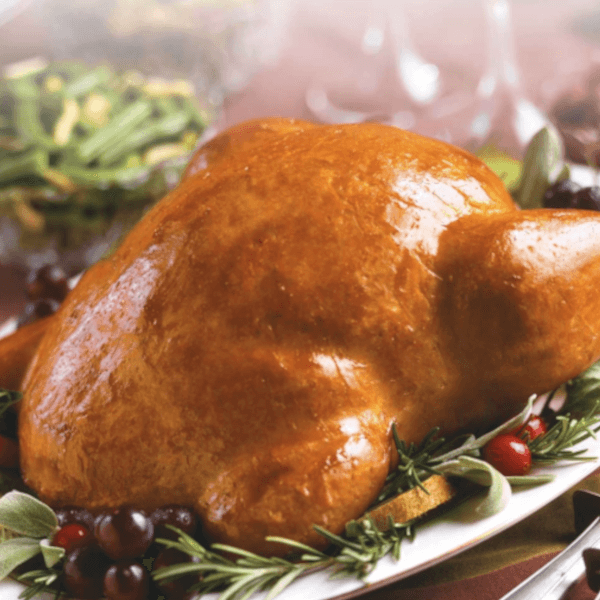 Originating in Taiwan, the Vegetarian Plus turkey has made waves for its unique appearance. Besides looking like a real bird, the roast even has a cavity for stuffing! Weighing four pounds and coming with its own stuffing packet, the Vegetarian Plus turkey will amaze your friends and provide plenty of leftovers for plant-based turkey sandwiches.
10.
Upton's Naturals Holiday Roast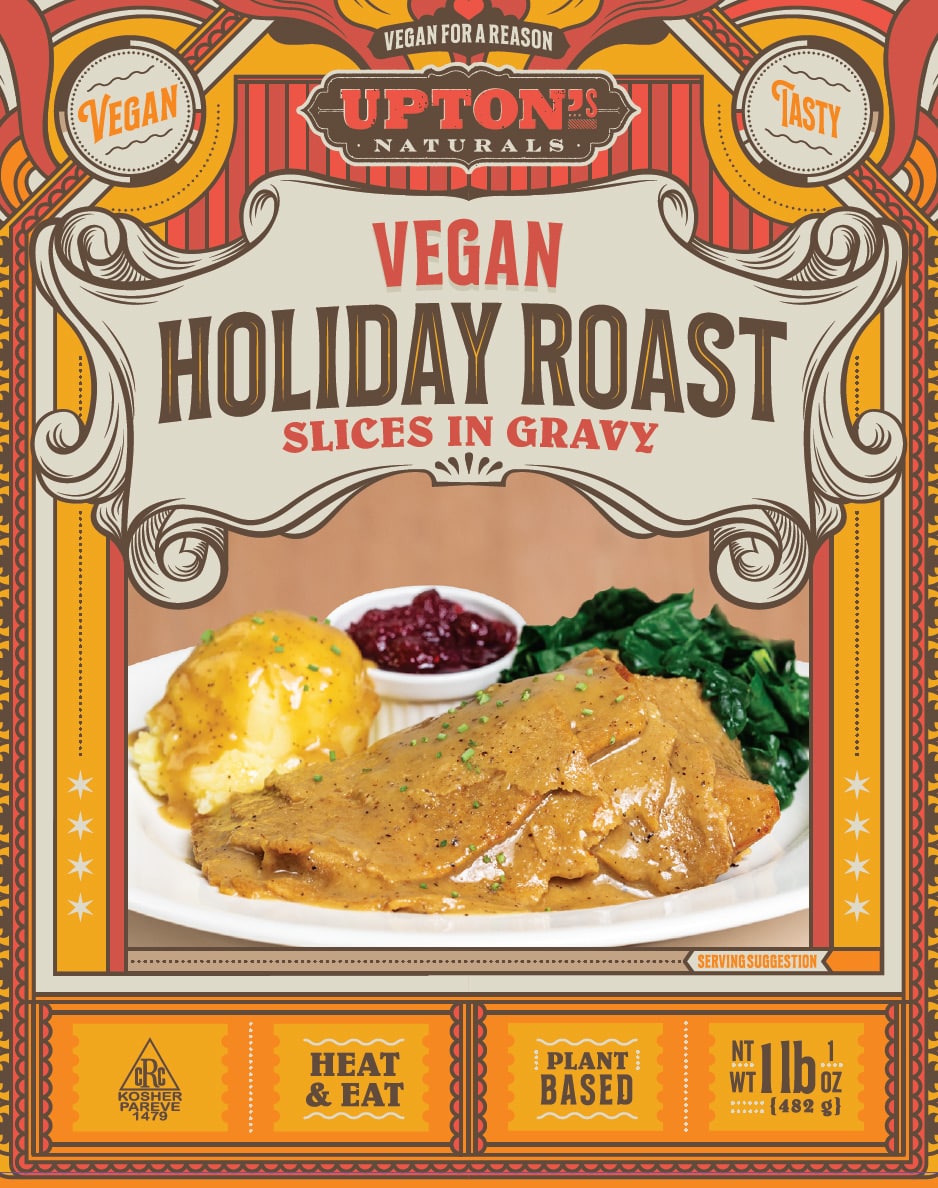 This unique vegan seitan roast comes presliced. It's perfect for a "leftovers" sandwich or on its own smothered in gravy. The sliced roast is already fully cooked, so just heat it up and enjoy! 
Wondering what to serve with your mouthwatering vegan centerpiece? Check out these 17 savory sides, and don't forget about dessert!