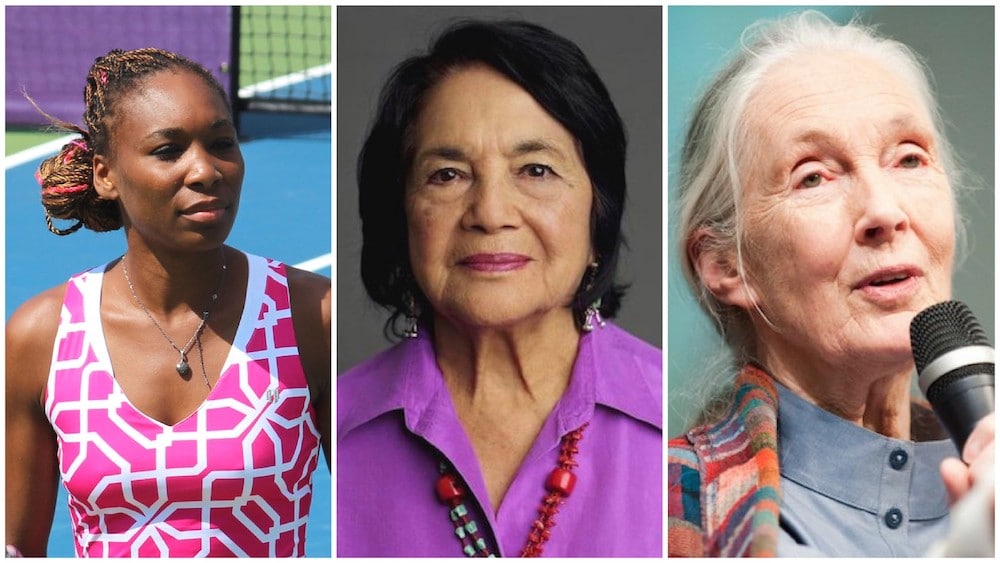 20 Badass Veg Women Who Are Making History
Sarah Von Alt
Here are 21 of our favorite veg women!
1. Betty White


Everyone loves Betty White. A vegetarian for more than three decades, you can love her a little more (if that's even possible) knowing how incredibly compassionate she is.
2. Dolores Huerta

American labor leader, civil rights activist, and co-founder of the National Farm Workers Association, Dolores Huerta is a vegetarian role model and inspiration to many.
3. Jane Goodall


Well-known for her work with chimpanzees, Jane Goodall spoke about the link between meat and climate change at the U.N. Climate Summit in Paris last year.
4. Ellen DeGeneres

Animal advocate Ellen DeGeneres is outspoken about her choice to leave animals off her plate. DeGeneres even has a "Going Vegan with Ellen" section on her website.
5. Emily Deschanel

Famous for her role as Dr. Temperance Brennan on Bones, Emily Deschanel has been vegan for more than 20 years and was the recipient of MFA's Compassionate Leadership Award in 2012!
6. Venus Williams

Tennis pro Venus Williams was the first black woman to be named World No. 1 in singles. Williams adopted a vegan diet to remedy her fatigue and pain resulting from an autoimmune disease.
7. Jenna Talackova

Supermodel Jenna Talackova successfully opened up the Miss Universe pageant to transgender women. Talackova chooses a vegan diet for reasons of health and personal ethics.
8. Babette Davis

Babette Davis is co-owner and chef at Stuff I Eat, a restaurant in South Los Angeles that offers all-vegan, mostly organic food! See for yourself.
9. Carol J. Adams

Carol J. Adams is a renowned feminist vegan and author of The Sexual Politics of Meat, a groundbreaking book that explores the relationship between meat eating and patriarchal values.
10. Pamela Anderson

Everyone has heard of Pamela Anderson. But what you may not know is that this star is a true champion for animals, lending her name to various campaigns promoting a vegan diet.
11. Erykah Badu

Award-winning singer and songwriter Erykah Badu has been vegan for more than 20 years. "Vegan food is soul food in its truest form," she declares.
12. Diane Warren

Hailed by some as "the most important songwriter in the world," famed Grammy award winner Diane Warren has composed for Whitney Houston, Cher, Aerosmith, Lady Gaga, and more!
13. Miley Cyrus

Inspired to go vegan by the loss of her blowfish, pop star Miley Cyrus discussed her compassionate lifestyle on Jimmy Fallon and posted about it on Instagram.
14. Miyoko Schinner



Miyoko Schinner, the formidable force behind Miyoko's Creamery, is changing the game not only for vegan cheese, but also for the farmed animals she rescues in her spare time.
15. Mýa

Mýa, a dedicated vegan advocate and attendee of our 2016 Hidden Heroes gala, speaks out about her passion for animal rights and the health benefits of a plant-based diet.
16. Kat Von D



Celebrated tattoo artist, entrepreneur, and TV star Kat Von D is a passionate vegan and supporter of MFA. She presented our Compassionate Courage Award to Kevin Lahey, a former MFA undercover investigator, at our 2016 Hidden Heroes gala.
17. Persia White

Known for her role on the sitcom Girlfriends, Persia White co-produced Earthlings, a powerful documentary that explores our relationship with nonhuman animals, including those used in food production.
18. Dotsie Bausch

In 2012, Dotsie Bausch won an Olympic silver medal, making her the oldest woman to do so in her sport. And she did it all as a vegan. Watch her incredible story here.
19. Tulsi Gabbard

Elected in 2013, U.S. representative from Hawaii Tulsi Gabbard was the first American Samoan and the first Hindu member of Congress. Congresswoman Gabbard follows a vegetarian diet.
20. Steph Davis

Famed rock climber Steph Davis is one of the leading female free climbers in the world. Vegan for more than 10 years, Davis is also a passionate advocate for animals.
Inspired? Click here to order your FREE Vegetarian Starter Guide.