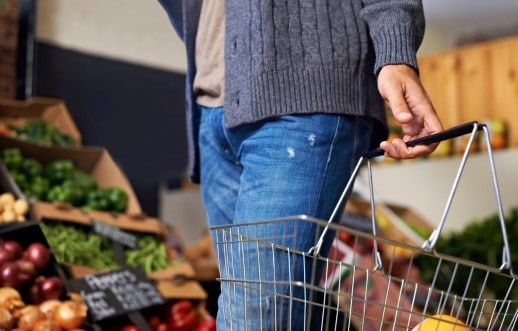 11 All-Vegan Grocery Stores Around the World You Should Visit
Rachel Krantz
It seems that each week a new all-vegan grocery store pops up somewhere in the world. It makes sense: Veganism is on the rise worldwide, and those who prefer not to harm animals would rather support establishments that don't carry animal products. I know I'm not the only one who sometimes finds the grocery store an upsetting place. While it's great that stores like Trader Joe's carry a bunch of vegan options (here's a shopping list of some of their best vegan products!), it would be great to be able to get my groceries without encountering animal carcasses.
Increasingly, all-vegan markets are springing up to supply us with all the BBQ jackfruit and nutritional yeast our hearts desire. Here are some of the most notable all-vegan grocery stores around the globe. If you don't live near any of these (LA, seriously, how are we not on this list yet?!), note that many have online shops you can drool over and support.
Naturalia Vegan: France
Just last month, the popular French organic grocery chain Naturalia opened three new all-vegan stores called Naturalia Vegan. Each location offers over 2,000 products ranging from produce and packaged foods to personal care and household products. If they do well, the company says there's a good possibility they'll open more!
GreenBay: London
GreenBay is London's first all-vegan grocery store, complete with its own "meat" and "cheese" sections. How very proper.

Sweet to Lick: Long Island, NY
Long Island's first vegan market, an offshoot of Sweet to Lick vegan bakery, has just opened. Even better, the owner plans to partner with a dietitian to advise shoppers on how to plan vegan meals and stick to their plant-based diets. Say what you will about Long Island, but that's really cool.
Veganz: Berlin, Prague, Vienna
Many claim that Berlin is the new epicenter of veganism, and it's not hard to see why. Veganz, an all-vegan grocery chain, has full-size stores in Berlin, Prague, and Vienna. The Berlin location has local produce and all the goodies you want on its first floor—but that's not all. The second floor has the vegan shoe retailer Avesu and Berlin's first "clean eating" restaurant, The Bowl. Um—yes, please!
HaGal Hayarok ("Green Wave"): Tel Aviv
Competing with Berlin for the status of most vegan-friendly city is Tel Aviv, where you can find the all-vegan grocery HaGal Hayarok serving the city's sizable vegan population. Rumor has it that the store is considering becoming a chain.
Vegan Supply: Vancouver, Canada
Vegan Supply has not only a large online store but also a physical location in Vancouver, another very vegan-friendly city.
Food Fight! Grocery: Portland
Food Fight! Grocery has perhaps the best tagline ever: "Bumming You Out Since 2003." Vegans, amiright? I'd expect nothing less from one of the best vegan cities in America.
Riverdel: Brooklyn, NY
OK, so it's more a market than a full grocery store, but Riverdel makes the cut for having not only an amazing selection of artisanal vegan cheeses but also ice cream, sauces, crackers, coffee creamers, and plenty of other goodies. Stop here before your Prospect Park picnic and you won't be disappointed!
The Cruelty Free Shop: Australia
With several locations throughout Australia, The Cruelty Free Shop is a huge all-vegan market with an online store to match. Vegemite, anyone?
Vegekauppa: Finland
Finland isn't exactly known as the most vegan-friendly country, which is why it's even cooler that the all-vegan grocery store Vegekauppa has opened in Helsinki.
Rabbit Food Grocery: Austin, TX
Owned by local vegans who try to carry other local and vegan-owned brands, Rabbit Food Grocery is unapologetically and fantastically vegan. I mean, their number is even 512-666-TOFU. Nothing but love.