Here Are the U.S. Cities With the Most Vegan Options in 2017
Whether out of concern for their health, the planet, or the plight of farmed animals who suffer horribly at factory farms, more and more people are moving away from meat and choosing healthy plant-based foods instead.
As a result, more vegan restaurants, as well as restaurants serving vegan dishes, are popping up across America. And WalletHub has just released a list of the most veg-friendly metro areas.
The company's strategy for identifying the most veg-friendly cities included several factors:
To determine the best and cheapest places for a plant-based diet, WalletHub's analysts compared the 100 largest U.S. cities across 15 key indicators of vegan- and vegetarian-friendliness. We examined each city based on such metrics as the cost of groceries for vegetarians, the share of restaurants serving meatless options and salad shops per capita.
So, without further delay, here are the very best cities in America for vegans and vegetarians:
1. New York, NY
The vegan options in New York are endless! Stop by Candle 79 for seitan piccata or a chimichurri portobello steak; try the Guac Burger with mac and cheese at by Chloe.; and don't miss the all-vegan Dun-Well Doughnuts!
2. Portland, OR
In a town famous for its eco-friendliness and microbreweries, it comes as no surprise that vegan dining options abound. Stop by Sweetpea Baking Company for something sweet; load up on snacks at Food Fight! Grocery; and don't forget to drop by Herbivore Clothing Company for a cute sticker or shirt.
3. Orlando, FL
"The City Beautiful"? More like The City Vegan! Stop by Erin McKenna's Bakery for a brownie cupcake; grab a savory dog at The Vegan Hot Dog Cart; and don't miss the amazing vegan doughnuts at Valhalla Bakery!
4. San Francisco, CA
Of course California made the list several times, but San Francisco takes the (vegan) cake! Be sure to stop by Millennium for a fancy, animal-friendly night on the town; grab a few tacos at Flacos; and create your own cinnamon bun loaded with toppings at Cinnaholic!
5. Los Angeles, CA
The Los Angeles area is home to a huge vegan population. As a result, delicious cruelty-free foods can be found in most neighborhoods. Try the Big Mac (on the secret menu) at Doomie's Home Cookin'; get an Indian kima pizza at LA's only all-vegan pizza spot, Cruzer; and don't miss the spicy baked scallop roll at Shojin (it's torched at the table)!
P.S. LA is full of vegan doughnuts. Check it out!
6. Seattle, WA
Seattle is loaded with delicious vegan eats and has nearly 200 animal-friendly eateries! Try the wide array of savory vegan grub (including breakfast!) at Wayward Vegan Café; visit Vegan Haven Grocery and load up on goodies; and don't miss the pan-seared creole tempeh at Plum Bistro!
7. Washington, DC
Equinox restaurant offers a vegan buffet-style brunch, and the plant-based fast-food spot HipCityVeg serves so many amazing sandwiches, you'll probably have to go back for seconds. Top it all off with dessert from Cupcake Wars winner Sticky Fingers Bakery!
8. Scottsdale, AZ
The most vegan-friendly city in Arizona isn't Phoenix or Tucson?! Nope. Scottsdale has a ton of restaurants with veg options and some must-try vegan restaurants. Be sure to stop by True Food Kitchen; grab a vegan dog at Simon's Hot Dogs; and try out some of the amazing salad bars around town!
9. Miami, FL
With over 100 all-vegan eateries, Miami is not to be overlooked. Enjoy the coconut ceviche tacos and key lime brûlée at Plant Food + Wine; try the Justice Burger at Choices Café; and don't miss the all-vegan coffeehouse Sweat Records, which offers a variety of dairy-free drinks, including one called the Unicorn Love Bomb (WUT?).
10. San Diego, CA
San Diego (and SoCal in general) is a vegan paradise. Kindred boasts an extensive vegan bar and some show-stopping dishes, and Evolution offers a ton of your all-American fast-food favorites, including a variety of burgers. While you're in town, be sure to try the Buffalo Bomber at Veggie Grill, another all-vegan chain restaurant.
Ready to give veg eating a shot? For easy plant-based recipes, fun meal ideas, and tips on making the switch, click here.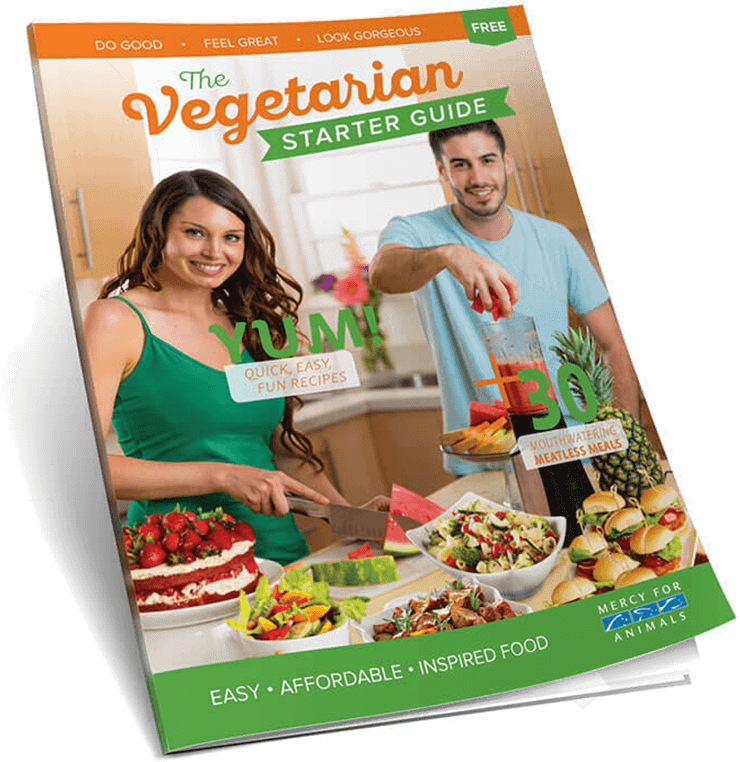 Get Your Free Vegetarian Starter Guide