8 Questions for the Man Who Transformed a Burger King Into a Vegan Restaurant
Every day more and more consumers are becoming aware of the mistreatment of farmed animals, the widespread environmental destruction caused by the meat and dairy industries, and the adverse effects animal products have on our health. As people demand change and refuse to support these industries, they are helping vegan businesses thrive.
When moving across the country, I was surprised at how little food I could grab on the go (seriously over plain bean burritos!), so I was excited to hear about the launch of Plant Power Fast Food in Southern California—my destination. I know I'm not the only vegan who wishes that more vegan fast-food joints were popping up across the country, so I caught up with Jeffrey Harris, one of the restaurant's owners, to learn about what it was like to start a vegan fast-food business.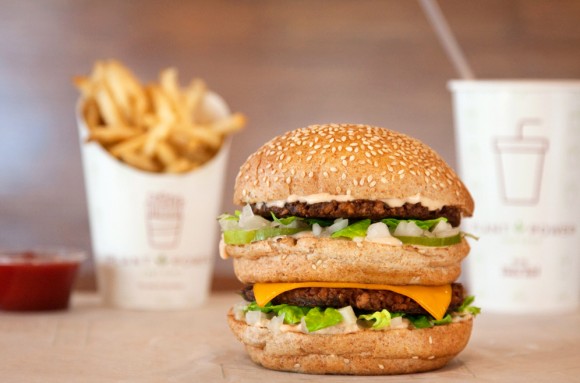 You recently turned a former Burger King into a plant-based fast-food joint. What made you pick that location?
The idea behind Plant Power Fast Food is to be a vegan version of traditional fast-food restaurants like McDonald's, Burger King, and other similar brands. That means we're focused on locations that allow either drive-up (Sonic-style) or drive-thru service. Of course, we also need to have a beautiful place for people to dine. When we found our Encinitas location, we realized that it had the drive-thru lane we were looking for and it was in an area with a lot of drive-by traffic, not far from the freeway offramp. Of course, we also loved the idea of transforming a traditional fast-food restaurant location into a vegan oasis; it's symbolic of the kind of change we're trying to create.
What inspired you to start a vegan fast-food restaurant? What effect do you hope to have on the community?
My partners, Mitch Wallis and Zach Vouga, and I are all ethical vegans and we're motivated to do whatever we can to decrease the suffering that animals endure because of animal agriculture and a society that is addicted to meat and dairy products. We understood that one of the most powerful ways to demonstrate a plant-based diet to the largest number of people was through the fast-food model. We chose to leverage the convenience and taste of fast food and then flip it on its head by doing it all without any meat, eggs, or dairy products. Our goal has been to inspire people to ask themselves some important questions and perhaps to begin to think differently about their food choices. We've heard over and over again how a few meals at one of our restaurants have inspired some of our customers to consider trying a vegan diet.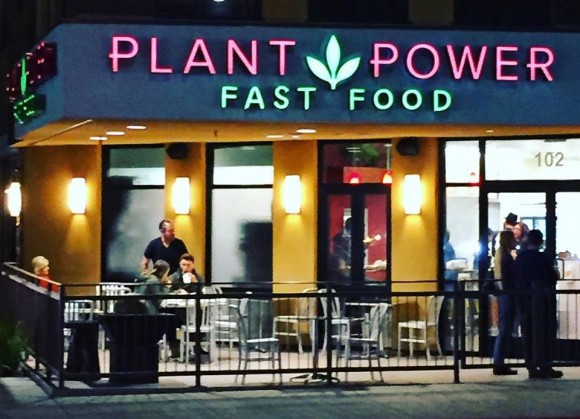 What does an average day at Plant Power Fast Food look like? What are your most popular dishes?
Our restaurants open at 8 a.m. every day with a breakfast menu that includes such items as the "Sausage, Egg & Cheese" Muffin (our vegan version of McDonald's famous Egg McMuffin), a breakfast burrito, a "chicken" waffle sandwich, smoothies, and organic coffee. At 11 a.m. the rest of our menu becomes available and we start serving burgers, fries, sandwiches, salads, wraps, and everything else. We close at 9 p.m., but our Ocean Beach location has extended hours until 10 p.m. on Fridays and Saturdays.
Honestly, the "most popular dish" question is always tough. But some of our most popular items are the Wake & "Bacon" Burger, the Southwest Avocado Wrap, and the Buffalo 66. Our milkshakes are a huge hit as are our "chicken" tenders. We also have some amazing salads, raw items, and a kids' menu. Of course, like any restaurant, we have our lunch and dinner rushes, but amazingly, both our restaurants are pretty busy all day long.
You and your business partners are ethical vegans. Can you tell us why you went vegan?
For many of us, there's that moment when you finally realize that the meat you're eating was actually a living, breathing animal. While kids love animals, they often don't make that connection. I was 14 years old and had this growing feeling that eating meat just wasn't right.
One night at the family dinner table we were having veal, and out of curiosity I asked my mother, "What is veal?" When she told me, I put my fork down and that was it. Except for a few tuna salad sandwiches that my grandmother used to make me, I had become a vegetarian. But after seeing a fish suffering on a pier one day, I stopped eating those tuna salad sandwiches as well.
As a young vegetarian I had no idea that the consumption of eggs and dairy also came at a great cost to animals. But as I came to realize that those products were part of a cruel and inhumane industry, I knew that I had to take the next step. At first, I phased out eggs. Then, I became totally vegan around 22 years ago.
My partners and I believe that animals deserve to be treated with kindness and respect. And so, demonstrating a cruelty-free diet to as many people as possible seems like one powerful way to express our love for our animal friends.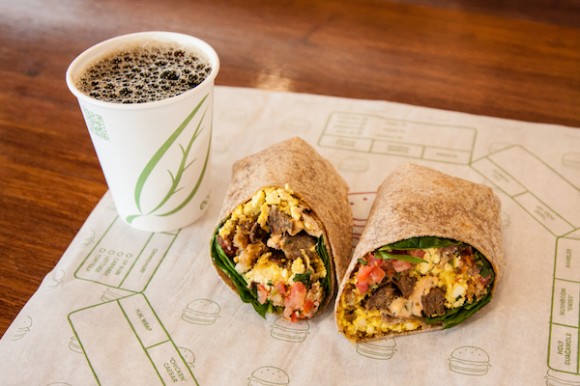 What has the response been from local residents?
It's been way beyond what we could have ever expected. While we knew that fellow vegans and maybe the "vegan curious" would flock to our restaurants, we've been overwhelmed by the response from the general public. Both our restaurant locations are busy pretty much all the time, and we get the sense that most of our customers are omnivores who are interested in trying something new. We especially love the stellar reviews on Yelp and Facebook that start with "I'm not a vegan, but…"
You currently have two locations. Do you have any plans to open others, and if so, are there any particular cities you're looking into?
Yes. Although we're in the early stages of launching our brand, we actually have a huge vision. Ultimately, we'd like to see Plant Power Fast Food locations throughout the U.S. and beyond. While we know it will require a huge amount of work and that it's going to take some time, we really do feel that the world is ready for what some are calling a "vegan McDonald's." We like to think of it as "the future of fast food." Right now we're scouting for locations in the Inland Empire, Orange County, and Los Angeles, and we're getting requests from all over the country. We're working quickly to build an expanded company infrastructure that will enable us to grow well beyond Southern California.
Do you have any advice for people interested in starting their own vegan business?
Yes. Do it. It may not be easy and there will likely be some obstacles, but do it anyway. There's something extraordinary about building something that is in alignment with your heart and your values. In our case, there were many challenges and obstacles along the way. Each time an obstacle came up we wondered if our dream might end right there. But we never gave up because we knew that we wanted to bring something really special to the world.
As for myself, I'd faced moments of fear and doubt as this project proceeded but when I felt overwhelmed, I'd turn my attention back to the "why," which was to help animals and, maybe in some small way, help heal the world. Also in my case, having the right team made all the difference. A good group of people sharing a vision and supporting each other is really important.
So, jump in! Be fearless and remember that the world needs your contribution.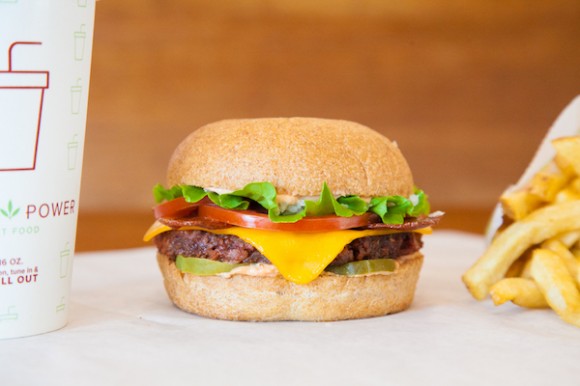 Is there anything you'd like to add?
On a final note, for me personally, being vegan is an important part of the spiritual journey. I don't believe that it's possible to be in alignment with our own highest power, our inner light, unless we recognize that all life is sacred and that every living being deserves to be treated with kindness and respect. The path of nonviolence is a path that can open us up to something mysterious and beautiful inside ourselves: that love that connects us to everyone and everything. Being kind is the first step toward being "awake."
–Plant Power Fast Food is open daily from 8 a.m. to 9 p.m. with extended hours at their Ocean Beach location on Fridays and Saturdays. For more information, visit their website.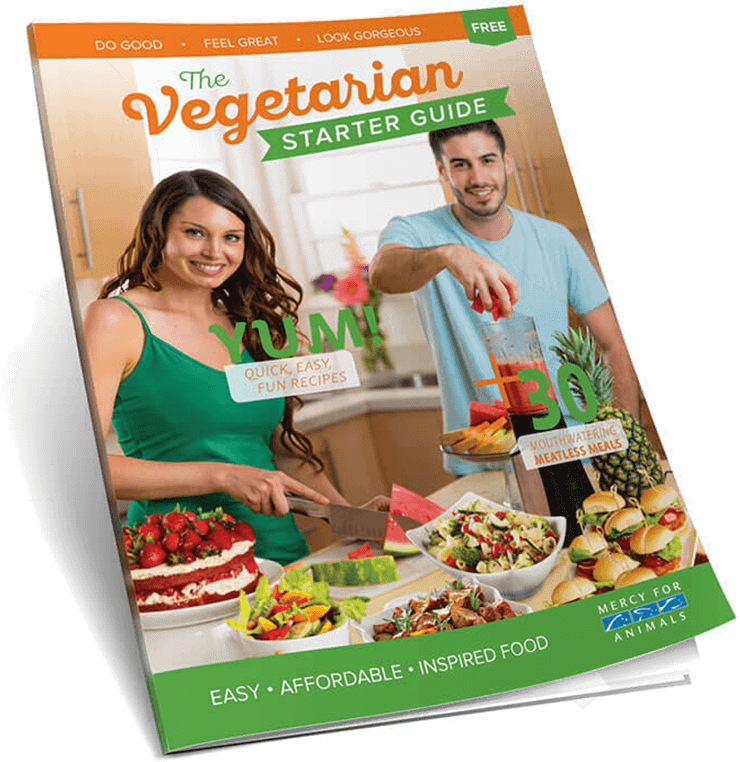 Get Your Free Vegetarian Starter Guide